Drownings are a political choice
Activists demand humane European migration policy after boat disaster
16 June 2023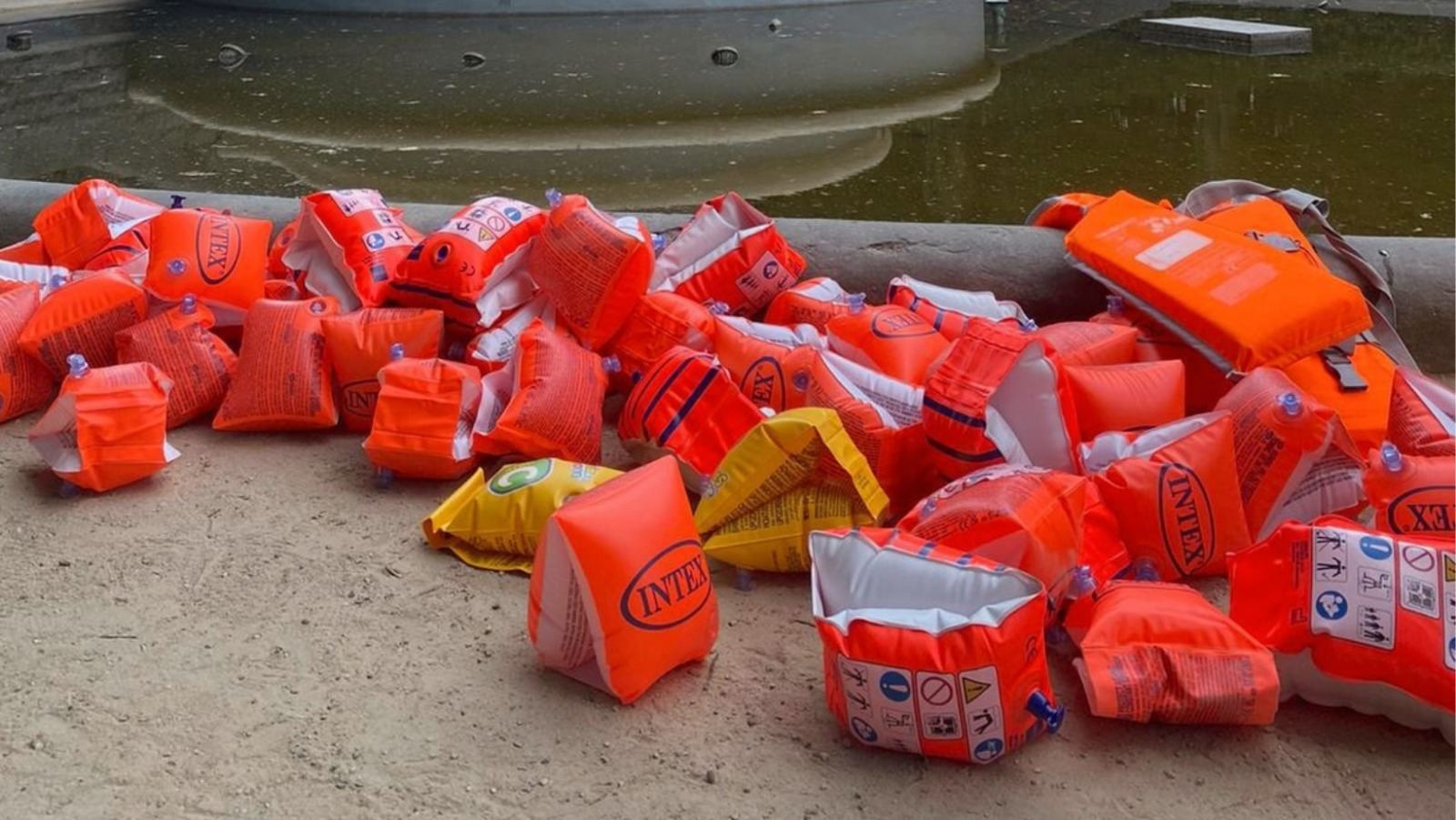 'Drownings are a political choice.' With that message, activists from 11.11.11 took over the Little Sablon fountain in Brussels this afternoon in response to the dramatic shipwreck off the Greek coast. Six hundred refugees possibly drowned there after their boat capsized on Wednesday. 11.11.11 demands more attention to rescue operations and an international investigation.
Swimming bands and life jackets. Those floated into the fountain of the Small Sablon in Brussels this afternoon to call attention to Wednesday's serious shipping disaster off the Greek coast. Six hundred refugees possibly drowned there after their boat capsized Wednesday. This is said to be one of the deadliest disasters in the Mediterranean. ​
Dome of International Solidarity 11.11.11 which organized the action is keen for policymakers: "This disaster could have been avoided. Indeed, drownings are a political choice," says 11.11.11 director Els Hertogen. "Safe routes for these people to come to Europe are virtually non-existent today. European and also Belgian resettlement programs are so small that they do not offer a realistic option. People have no alternative."
Independent investigation
11.11.11 eist dat België oproept tot een onafhankelijk internationaal onderzoek naar de gebeurtenissen. "De Griekse kustwacht staat bekend voor haar doofpotoperaties op vlak van illegale pushbacks, geweld en criminalisering van ngo's," benadrukt 11.11.11. "Ook nu communiceerde ze onmiddellijk dat de slachtoffers in kwestie geen hulp vroegen. Daar is niets van aan. Tal van elementen van het verhaal van de kustwacht kloppen niet."
Zo gaf de ngo Alarmphone aan dat ze de Europese Grensagentschap Frontex en de Griekse en Italiaanse kustwacht op de hoogte bracht van SOS-signalen die ze van de boot ontving. "Boat in distress. 750 persons on board incl. Many women and children. People said that they cannot go on. They are urgently asking for help," klonk het in een email van Alarmphone. De vluchtelingenorganisatie van de VN, die in kopie van de mail stond, bevestigt het bestaan van de communicatie.
Humane migration policy
A humane and just migration policy is much needed according to 11.11.11. Legal entry routes, mandatory solidarity mechanisms and respect for human rights must be the basis for this.
"This shipwreck and the new European migration pact make it clear that we must force a turnaround from the bottom up." - Els Hertogen, 11.11.11 director
"Unfortunately, tragic events like this shipwreck and the lack of attention to human rights or rescue actions in the new European Migration Pact make it clear that we have to force that turnaround from the bottom up through actions like this," concludes 11.11.11 director Els Hertogen.
---
On resettlements: Belgium resettled barely 25 people this year.